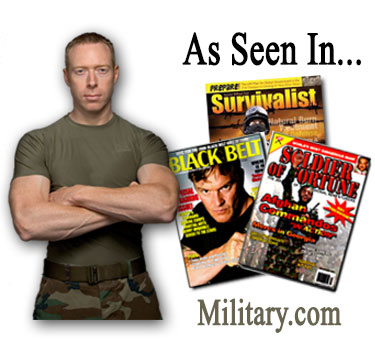 Hi, I'm Jeff Anderson… 
For over 20 years, my company, Modern Combat & Survival and our New World Patriot Alliance have been arming everyday survivors like you with the training and tools you need to protect yourself and those you love from any threat – all based on real-world experience and testing. 
As a 10-year combat veteran and former member of the elite 10th Mountain Division, I've trained in some of the harshest environments on the planet:  
From neck-deep jungle swamps to barren, scorching deserts… from rocky, remote mountain terrain to 3rd world urban cities and villages in the throws of war and civil unrest. 
And here's what I can tell you… 
No matter where I was, the #1 back-up tool I would never be caught without – whether in training or in combat – wasn't my firearm… it wasn't even my survival knife ... no, the most critical tool I carried everywhere I fought and trained was my machete. 
I know that sounds hard to believe, but you're about to discover WHY in just a few seconds. 
And even though a machete is the most trusted "tactical back-up" carried by soldiers in harm's way, this ISN'T just for members of the armed forces. 
I mean, you'd have to be living under a rock or never watch the news to not notice that we face more and more threats right here at home - with natural disasters happening more frequently and a crumbling society just waiting for a "trigger event" like a grid-down blackout, economic collapse, nuclear disaster, or a breakdown in civil order to push us over the edge. 
We all know the day is coming, right?
And when it does, the only thing that separates the victims from the survivors is the knowledge, skills, and gear you have on hand to face whatever threat is thrown your way. 
And that's why I'm so excited to introduce you to...